Reducing the carbon emissions of buildings is essential to achieve a net zero-carbon future in the United Kingdom, as set into law in 2019. Kennedy Wilson acquired 111 Buckingham Palace Rd (111 BPR) in the Victoria submarket of London in 2014. The landmark building, located over the Victoria train and underground station, comprises 224,100 square ft of Grade A multileased office space.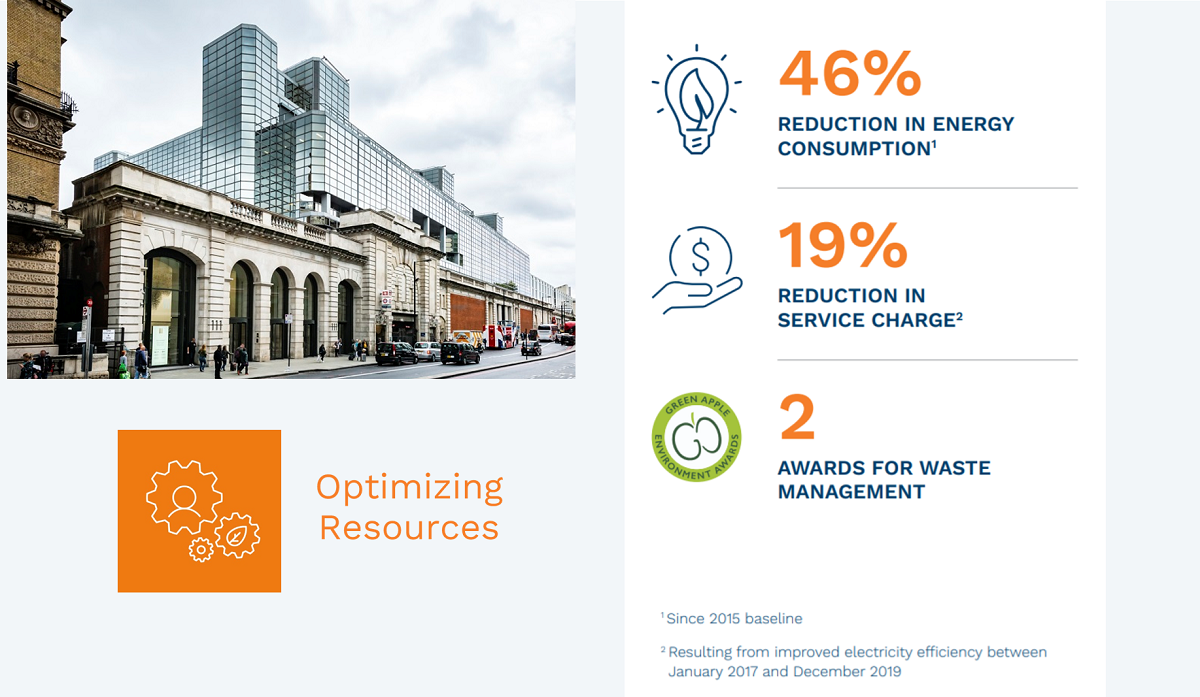 111 BPR Story
At acquisition, the building was one of the highest energy consumers in Kennedy Wilson's European portfolio. Since then, we have invested significantly in a program of refurbishments to introduce measures to cut energy consumption and improve comfort levels for tenants while reducing their service charges.
Investments in new lighting controls, LED lights and a new building management system (BMS) had succeeded in delivering a 22% reduction in electricity consumption and a 15% reduction in the small amount of gas consumed by the end of 2017, against our 2015 baseline.
We implemented a move to green electricity at the building in October 2018, and by November 2019 had switched 100% of the building's electricity supply to renewable energy contracts.
Over the last two years, we have also capitalized on the new and improved BMS and introduced regular energy monitoring which ensures quick reaction to any changes in consumption. These measures allowed us to achieve a further 35% reduction in energy consumption between 2017 and 2019, which allowed us to reduce the energy-related service charge by 19% over the same period.
We recently commissioned an updated energy audit at 111 BPR and identified additional opportunities to improve efficiencies across mechanical equipment and system controls, targeting equipment upgrades with a focus on the building's air handling units, cooling plants and BMS parameters. These suggested improvements are already under investigation and will enhance the model for what a low-carbon building looks like, as we look to continue the sustainability journey of 111 BPR into 2020.