The story of our Irish headquarters began in the 1840s when it opened as a Methodist church. Following a fire in 1968, it was rebuilt in the 1970s as a pre-cast concrete office block, with just the original neo-classical façade remaining. We purchased the building in 2017, and as we drew up plans for a complete refurbishment of the vacant property, we were determined to create a vibrant, sustainable, and desirable property with high environmental standards, creating a model building for our portfolio and the wider Dublin market.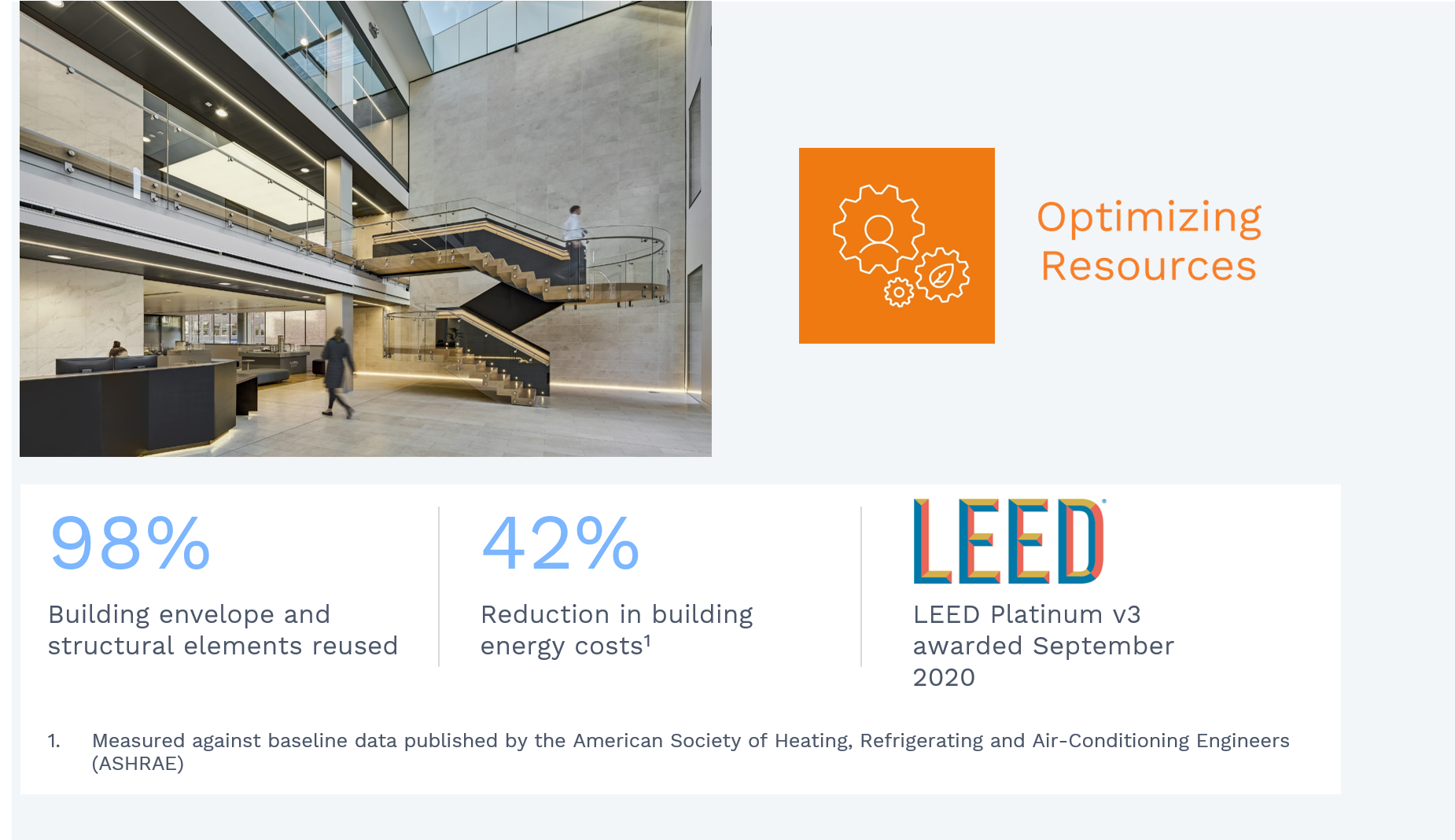 The building's prime location in the heart of Dublin, on St. Stephen's Green, offers ample access to public transport and green space; providing a strong starting point on our sustainability journey.
To minimize the environmental footprint, 98% of the envelope and structural elements were reused and 96% of total construction and demolition waste was recycled or diverted from landfill. New materials were specifically chosen to ensure they were regionally sourced, contained recycled content, and provided sustainable certifications.
A 42% reduction in building energy costs was achieved through the installation of a high-efficiency variable refrigerant flow ventilation system, a dimmable daylight management system, and a heat pump providing both heating and hot water. Water-efficient sanitary fixtures were installed throughout, reducing overall water consumption by 40% over LEED minimum performance levels.
Following the refurbishment, EV charging points with dynamic load management software were fitted enabling demand to be optimized according to the building's wider energy use. Car-pool spaces, on-site bike storage facilities, showers, and changing facilities were also installed bringing additional health and well-being benefits. These factors, alongside high indoor air quality standards, the overprovision of plants, and an abundance of natural light have had a positive impact on employee well-being and productivity. In addition, and working with a local partner, we commissioned the installation of two bee hives that house approximately 30,000 dark native Irish honey bees on the roof of the building to boost biodiversity and pollinate the local St Stephen's Green and Iveagh Gardens.

The building was awarded LEED Platinum Version 3 in September 2020. Platinum is the highest certification level under the LEED for New Construction Rating system. 94 St. Stephen's Green was one of only three other buildings to achieve the rating in Dublin at the time for the full refurbishment and fit out.