Capital Dock is one of the largest, single-phase mixed-use developments ever built in Ireland, extending over 4.8 acres across more than 690,000 sq ft of gross space, creating a dynamic new urban quarter in Dublin.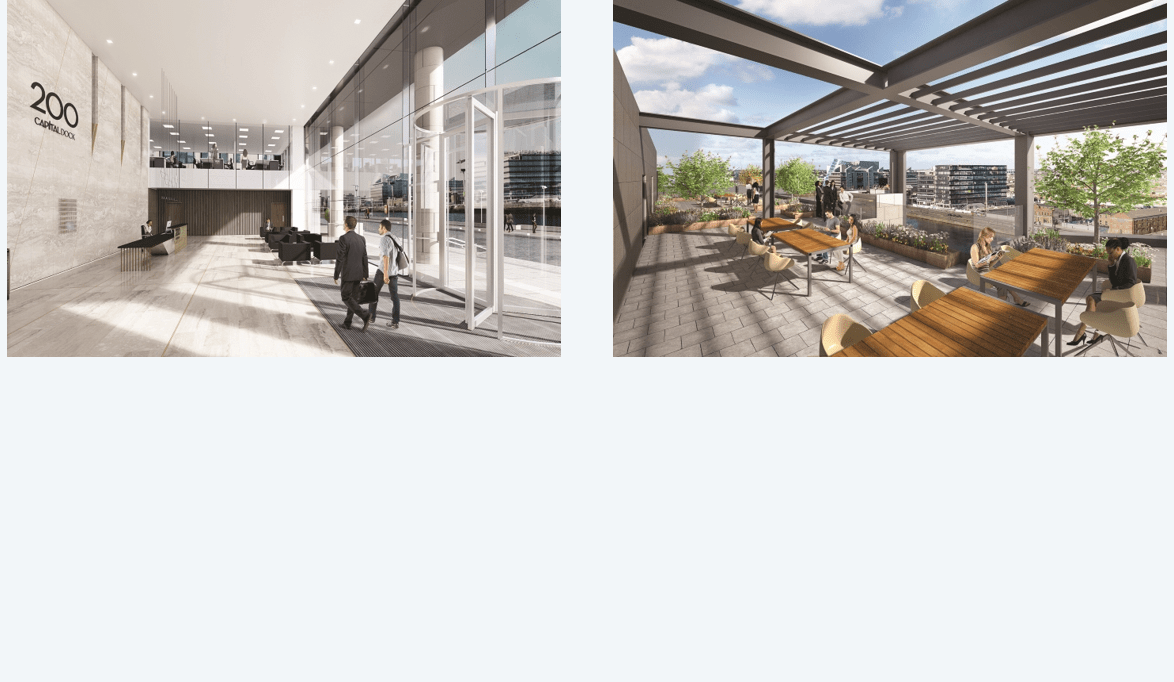 Commercial Sq. Feet
370,000
Capital Dock Story
In 2012, Kennedy Wilson and its equity partner acquired a loan secured by a Class A office building leased to State Street Bank and the adjacent three acre site at Sir Rogerson's Quay in Dublin, Ireland.
At acquisition, the undeveloped three acre site had minimal allocated cost basis. Kennedy Wilson and its equity partner took title to both the building and the adjacent land in 2013 with the site assembly finalized at the end of 2014 following the completion of a joint venture arrangement with NAMA. The building and the development of the adjacent land both represent direct investments of Kennedy Wilson.
The approved plans include 370,000 sq. ft. of commercial space across three buildings and 190 high-quality multifamily units across an additional three buildings, one of which is a 23 story tower marking the gateway to the city.
In May 2017, Kennedy Wilson sold the 130,000 sq. ft. 200 Capital Dock building to JPMorgan on a forward funding sale agreement.
In December 2017, Kennedy Wilson signed a 20 year lease (with lease breaks at year 13) with Indeed, the world's #1 jobs site, to fully occupy buildings 100 and 300 Capital Dock. This lease represented the largest Dublin office lease this cycle, enabling Kennedy Wilson to fully lease its office buildings at Capital Dock more than 12 months prior to completion.