Building vibrant communities is a core pillar of our ESG program. It has been fundamental to the success of our multifamily properties in the Western U.S. and Ireland, where we have built a reputation for delivering first-class amenities and services that bring our communities together around shared experiences.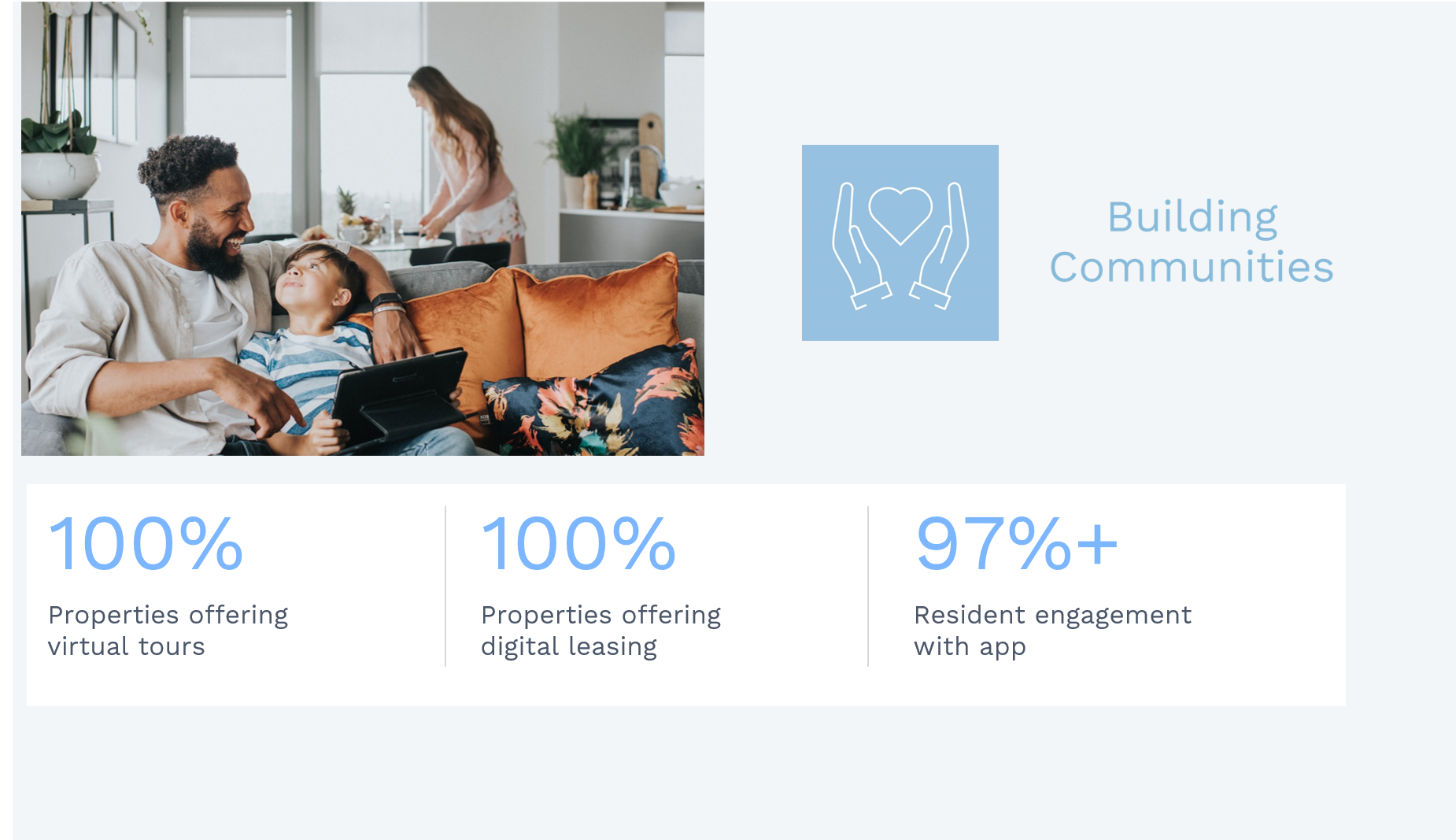 Location
Western U.S. and Ireland
The COVID-19 pandemic has emphasized our collective responsibility to keep our communities safe and connected. It also highlighted the important role that technology can play in complementing our existing efforts and accelerated the steps we have already taken to put the needs of our residents first; from their first lease with Kennedy Wilson to the on-site amenities and services.
While the digital offerings in the Western U.S. differ slightly from Ireland, in essence both geographies provide a digital leasing platform and resident portal or app. Since 2019, we have rolled out digital lease platforms across our global multifamily portfolios, offering virtual viewings across 100% of our communities and digital leasing for potential residents.
The digital experience extends to new and existing residents via an individual building app, providing access to 24-hour concierge services, parcel storage, car hire amongst other bespoke services, depending on geography.
The app can also be used by residents to book extensive on-site amenities such as fitness centers, cinema rooms, office space, and games rooms. If something needs fixing, a ticket can be raised, with residents kept up to date with the status of their request throughout the repair process. We have seen excellent engagement from residents with many sites seeing app download figures of 97%.
Pre-pandemic, extensive events were organized by on-site management teams, from community-wide summer barbeques to festive celebrations with high levels of attendance. With some of our larger properties being home to several thousand residents, these events provide a meaningful opportunity for people to connect and socialize.
When COVID-19 took hold, we quickly moved to virtual offerings with events such as yoga, pilates, fitness classes, bingo, quiz nights, pumpkin carving, and Christmas parties being held remotely across our portfolios. Our community teams were quick to adapt, utilizing online community message boards to reach out to tenants and publicize not only social events but also information around public health and enhanced cleaning protocols.
Although technology will not completely replace the physical interaction that is so important to our health and well-being, the pandemic has clearly shown its potential to help build and support our communities, and expand the choices residents have to access the services and amenities they so value.