Kennedy Wilson actively encourages employee engagement in the communities where we operate. In Ireland, we are very proud to be a founding sponsor, supporting the Dragons at the Dock charity boating regatta since it was launched in 2017. The annual event – held at Dublin's Grand Canal Dock, near our Capital Dock campus – is organized by the Irish property industry, and each year brings together many of the Kennedy Wilson staff, who rally around a common charitable effort. In 2019, the event raised €350,000 for charity and the Kennedy Wilson team of 12 won for the first time, beating 78 teams for both the sector and overall event trophy.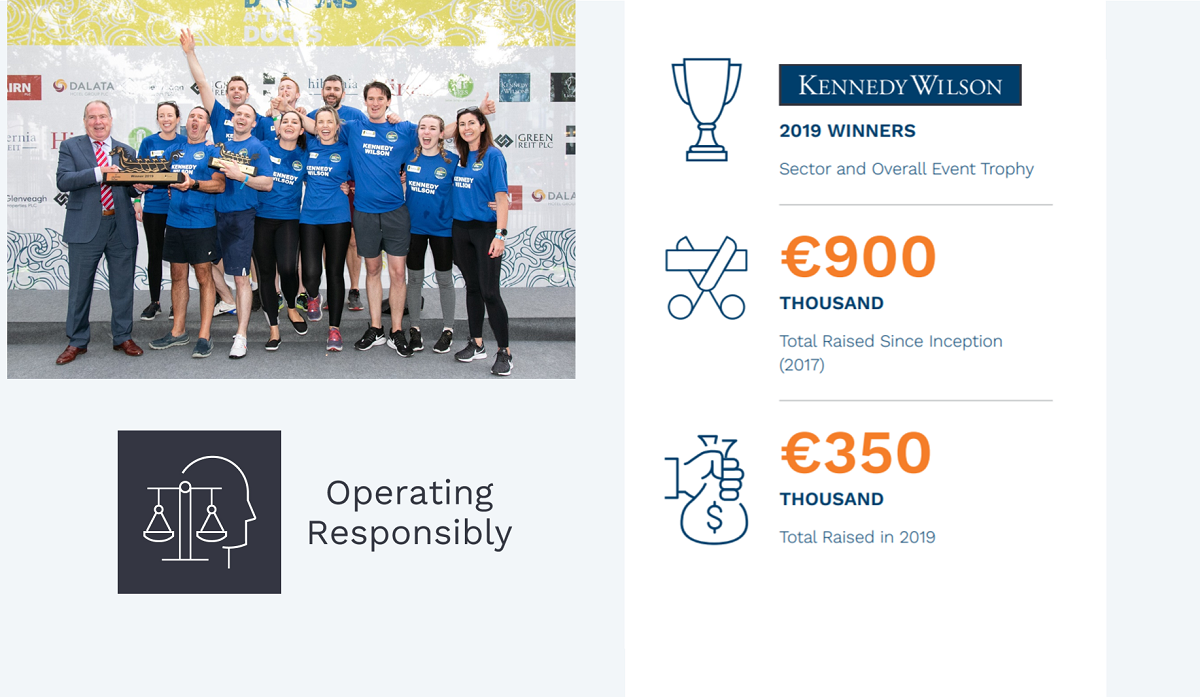 Dragon's at the Docks Story
Over the three years since its launch, the event has raised almost €900,000 for charity, with three quarters of the funds going to the Dublin Simon Community. The charity plays a leading role in tackling homelessness, delivering outreach and frontline services, and preventative support for the homeless, those living in temporary accommodation or in danger of falling into homelessness.
In addition, Kennedy Wilson raised an additional €8,000 for its nominated charity, the Plurabelle Paddlers. Founded in 2010, the Plurabelle Paddlers is Ireland's first dragon boat team, brought together by breast cancer diagnosis.
Dragons at the Docks is one of the many initiatives our employees support. A culture of active volunteerism and charitable giving is strongly promoted, with individual staff fundraising matched by Kennedy Wilson. Other events include Dockland volunteers, where volunteers spend half a day cleaning up the Docklands area; Techies for Temple Street, with 1,600 members of the Irish tech and business community set on a Dublin treasure trail with all monies raised benefiting sick children across Ireland; and St Vincent de Paul, where staff volunteer their time preparing Christmas hampers and gifts for families in need. We are proud that our charity partners benefit from Kennedy Wilson's financial support, our staff's time and active contributions, which further increases the impact of our partnerships on our communities.