Fairmont St Andrews' environmental commitment is extensive, being one of only 14 hotels in the Accor Northern Europe group to enjoy Platinum Sustainability Status. An ambitious program of work led by an on-site 'green team' contributed to Fairmont St Andrews' recent recognition as the Eco Hotel of the Year 2018-19 by the AA, recognizing its positive contribution to reducing impact on the environment and numerous green credentials including the Green Tourism Silver award.
Fairmont Hotel Story
One of the select AccorHotels with significant green credentials
The Eco Hotel of the Year award recognized the hotel's wider support for environmental initiatives in the local community. These include a regular beach clean and maintenance of the Fife Coastal Path which runs through the property. More recently, the hotel introduced two bee hives that will house approximately 60,000 dark native Scottish honey bees to boost biodiversity and pollinate the wild grasses and flowers that feature across much of the land. An onsite greenhouse provides ingredients for the hotel's restaurants, which include Fife's only vegan menu; 75% of the food consumed at the hotel is locally sourced.
Other highlights include a recycling program that donates approximately 250kg of bathroom soaps and hygiene products every month to humanitarian organizations through the "Clean the World" initiative. In 2018, the hotel took further measures to tackle plastic waste by replacing all disposable plastic bottles in guest rooms with refillable bottles as part of Scottish Water's 'Your Water Your Life' campaign. The initiative is expected to save 55,000 plastic bottles a year and supports other efforts to tackle plastic waste including the elimination of plastic cups.
At the forefront of developing local skills and ongoing community investment
As one of the largest employers in Fife, the hotel has been at the forefront of efforts to develop local talent and skills as part of its ongoing investment in the community. In 2018, the hotel welcomed ten apprentices as part of a pioneering three year Hospitality Apprenticeship Program. The apprentices will be provided with an immersive experience into every aspect of hotel, spa and golf course management as they train to become Junior Hoteliers. The program will welcome up to ten recruits per year and AccorHotels alongside Kennedy Wilson have recently worked with the Scottish government and other prominent Scottish hotels to expand the program across the Scottish hospitality industry.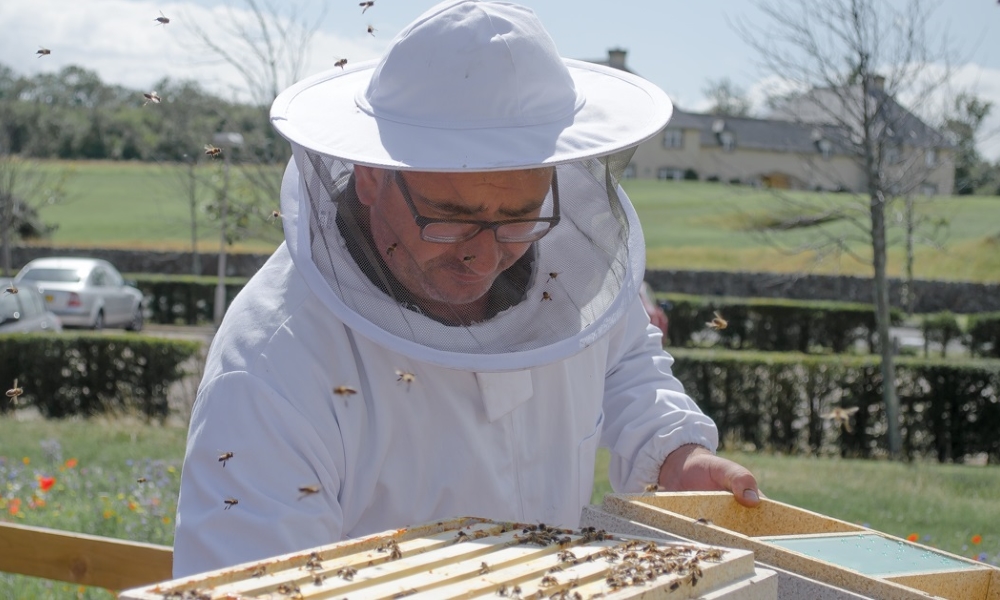 Fairmont's head gardner tends the hotel's two bee hives