Located just a short distance from Dublin city center, with direct access to the River Liffey and within walking distance of the 1,700-acre Phoenix Park, Europe's largest enclosed park, Clancy Quay dates to the late-1700s when it was originally built as a military barracks. Immediately following our acquisition in 2013, we set about creating a masterplan that could transform the 13.6-acre site into one of Ireland's premier multifamily residential communities.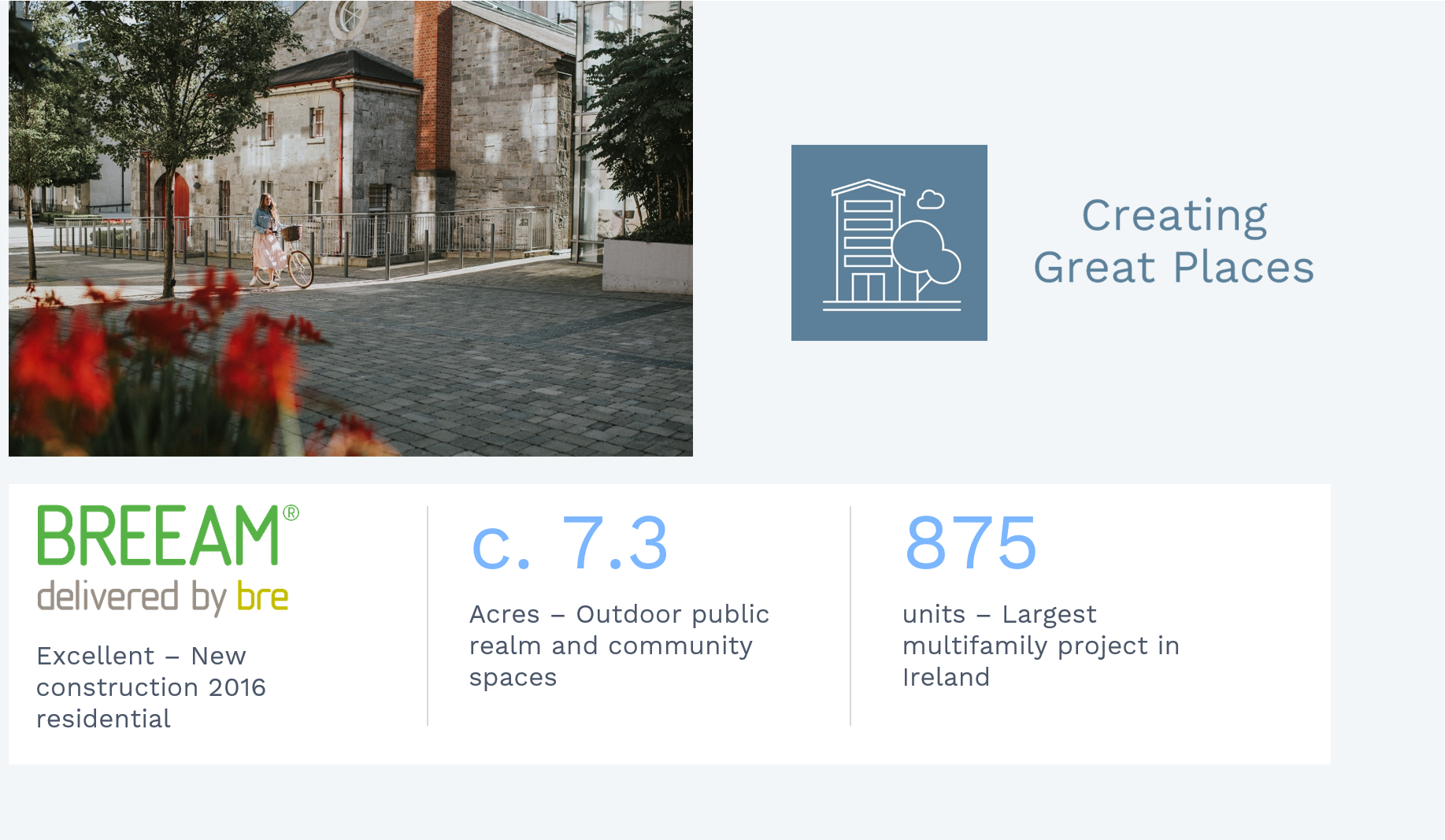 Throughout the project, taking Clancy Quay from 423 units at acquisition to 875 units, once fully complete, we have focused on purposeful placemaking for the more than 1,800 residents who call Clancy Quay their home. Our aim was to create a unique sense of place that blends distinctive historical features, new public outdoor spaces for residents and the wider community, and contemporary apartments that are well designed and high quality with a strong emphasis on sustainability.
In recognition of our efforts, the latest phase of the development of 246 units was awarded the highly coveted BREEAM Excellent certification1. This was the highest scoring Excellent rating in Ireland to date and recognizes our careful integration of environmental and well-being aspects, including accessibility to public transport, biodiversity, waste recycling, energy and water efficiency, air quality, acoustic comfort, materials selection, and construction. The emphasis on public realm, outdoor community spaces, and the resulting health and well-being has put Clancy Quay in a strong position for the WELL Community standard, currently underway.
Clancy Quay is regularly presented as an exemplar for conservation and multifamily communities by key stakeholders, including industry groups and local authorities alike. It has received widespread recognition including the Royal Institute of Architects of Ireland (RIAI) award for Housing and was shortlisted and highly commended for Adaptation and Re-use, coupled with a further shortlisting from the Irish Construction Excellence Awards in the category of Heritage Building. The focus on community outdoor space has also been recognized with the Association of Landscape Contractors of Ireland Awards.
We were one of the first residential developers in Ireland to offer the extensive range of services and amenities that we pioneered in our U.S. portfolio, and Clancy Quay remains the flagship offering amongst our Irish multifamily portfolio. Onsite resident events have played a big role in creating a sense of community and these are organized regularly. Delivering technology and a seamless digital experience to both prospective and existing residents has been critical, especially since 2020. More on our amenities, services, and digital initiatives can be read in our Building Communities case study.