As COVID-19 spread throughout the UK in early 2020, the country adopted unprecedented measures to halt the spread of the pandemic. Unlike many other sectors that were shut as part of lockdowns, the UK government allowed the construction sector to continue operating, but supply chain disruption, a shortage of subcontractors, and strict social distancing measures threatened the delivery of projects.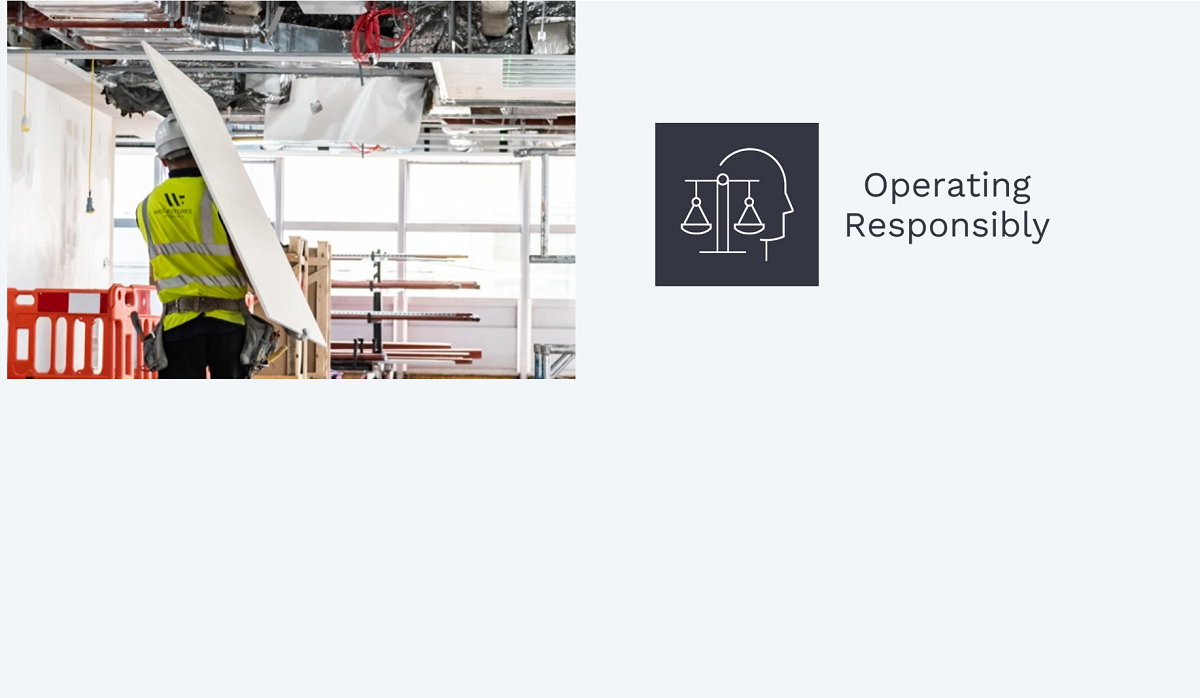 With three significant UK refurbishments underway, our commitment to operating responsibly and good governance runs throughout Kennedy Wilson to our partners and supply chain. In our South East office portfolio, The Heights, Stockley Park and Ditton Park all had construction sites operating throughout the pandemic. We worked closely with our partners to ensure that the safety and health of all people onsite was prioritized, avoiding site shutdowns and ensuring that project timelines were met.
Our close collaboration with our contractor, ISG, who worked on all three projects and whom we have been working with since 2019, positioned us strongly to manage our joint response to ensure the safe continuation of each project through the pandemic. We drew on ISG's international experience, most significantly in South East Asia where earlier lockdowns meant it had developed an effective strategy prior to the need for a UK response.
We worked to identify challenges, potential bottle necks in the supply chain, and brought forward the delivery of key materials to ensure that projects ran on time, and site plans and adequate space could be maintained. A COVID-19 action plan was drawn up to ensure all sites continued their work in a COVID-secure manner, including rotational site plans to ensure movement around each project reduced physical contact between workers; installing sanitizing stations throughout; segregating communal areas, encouraging contractors to use private transport as much as possible and mandating the use of personal protective equipment and social distancing in line with Government and industry guidelines.
The latest thermal and facial recognition technology was also used to ensure that any worker showing COVID-19 symptoms could be tested. Quick identification of potential infections allowed for speedy decisions to reduce the risk of a more serious outbreak, including site shutdowns. As we continue to respond to changing restrictions, our active governance and strong partnerships continue to help minimize risks to our business and stakeholders.
"During the COVID-19 pandemic, working collaboratively with ISG in our response has been instrumental in keeping our UK sites open and all onsite teams safe." Peter McKenna, Head of Development, Kennedy Wilson Europe