×
William J. McMorrow
Chairman and CEO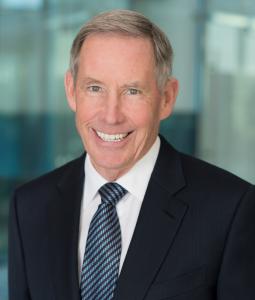 Years in Real Estate:
45 years
Years with the firm:
33 years
William J. McMorrow
Chairman and CEO
William McMorrow is chairman and CEO of Kennedy Wilson, which he purchased in 1988. Beginning with just one office and eleven employees, today Kennedy Wilson has 25 offices in the U.S., U.K., Ireland, Spain, Jersey and Japan with 500 corporate employees and 5,000 operating employees as well as assets under management of $18 billion, including over 50 million sq. ft. of office, retail and industrial properties. In November of 2009, the company went public and is listed on the New York Stock Exchange. Kennedy Wilson Japan went public in 2002 and is currently listed on the Tokyo Stock Exchange.
Kennedy Wilson Europe was established in 2011 and now has offices in Dublin, London, Madrid and Jersey. One of the earliest investors in Ireland, Kennedy Wilson has quickly become one of the top commercial property owners in the country. In 2011, the company served as the catalyst and lead investor in the recapitalization of the Bank of Ireland. Kennedy Wilson today has more than $8 billion of assets in Europe.
In early 2014, Kennedy Wilson Europe Real Estate plc was established and listed on the London Stock Exchange. The $1.7 billion IPO represents the largest real estate vehicle listing since the economic downturn and the second largest real estate IPO in the history of the London Stock Exchange.
Numerous publications have profiled Kennedy Wilson and Mr. McMorrow, including the New York Times, Irish Times, Estates Gazette, Los Angeles Business Journal and PERE. In 2012, Real Estate Forum magazine selected Mr. McMorrow as one of Southern California's Real Estate Icons. In 2015, he was honored by the Ireland Chamber of Commerce in the United States (ICCUSA) with the Sir Michael Smurfit Business Achievement Award for his years of leadership and his contributions to Ireland. In 2016, he was chosen as a recipient of the Ellis Island Medal of Honor.
Mr. McMorrow attended Loyola High School and received his Bachelor of Science degree in Business and MBA from the University of Southern California. Additionally, he is involved in numerous charities, including Chrysalis, which honored him with the Spirit of Chrysalis Award in 2005, Navy SEAL Foundation and City of Hope, which honored him in 2014 at its Spirit of Life Celebration. In 2015, Kennedy Wilson was the lead sponsor of an unprecedented $4 million fundraising effort for the Navy SEAL Foundation. Mr. McMorrow also serves as a Trustee of the University of Southern California and as a Trustee of the Windward School. He is on the Executive Board of the USC Lusk Center for Real Estate and the Loyola High School Board of Regents. He supports the Village School and Loyola High School, which honored him with the Cahalan Award for Distinguished Alumni in 2010. Recently, he endowed the William J. McMorrow Global Real Estate Program at the USC Marshall School of Business.